Next Game: The Season has finished

Hoffman lauds Warriors commitment in NRL
28 May 2017
Warriors back-rower Ryan Hoffman says his side demonstrated their commitment to the cause in Saturday's 28-10 NRL win over Brisbane.


There's every chance the absence of Brisbane's State of Origin stars had an impact on their 28-10 loss to Ryan Hoffman's Warriors on Saturday.

But if it did, it's not something that'll keep Hoffman awake at night.

The 33-year-old played the full 80 minutes, making 29 tackles and 88 metres with the ball as his side won the forward battle at Mount Smart Stadium.

It's an important turnaround for the Warriors, who were left gasping for air after limp defeats to Penrith and St George Illawarra in consecutive weeks.

On the edge of the top eight, they'll now look to push their way up the NRL ladder with winnable fixtures against the Eels and Titans to come.

Yet their victory was secured against a Broncos outfit missing six key players on Queensland duty, including Anthony Milford, Darius Boyd and Matt Gillett.

Hoffman said he was unconcerned by the sextet's absence, lauding his side's commitment and precision after a fortnight of considerable pressure.

The side's forward pack had clicked, making 300 more metres with the ball than their Broncos counterparts, and their attack was on-song.

"I don't know if it had an impact on the match but we couldn't control that - we were worried about what we could control and we were up against 17 blokes in Broncos jerseys, (and) that's all that mattered," Hoffman said.

"We played how we trained and that's something we hadn't done in the past couple of weeks - there was full commitment there tonight.

"It was a good lesson for us, to know that we've got to be committed."

click here for full story...


Warriors cruise past short Broncos in NRL
The Warriors have put a tough two weeks behind them with a morale-boosting 28-10 win over an understrength Brisbane Broncos in Auckland. click here for full story...



Warriors confirm Tui Lolohea early release
Warriors utility Tui Lolohea has been released by the club and it is expected he will soon be playing for Wests Tigers. click here for full story...



Warriors look to ride Origin wave
The Warriors are keeping the faith ahead of their NRL clash with an under-manned Brisbane and the typically fruitful State of Origin period that follows. click here for full story...


Last Game: The Warriors won against the Parramatta Eels 18 - 16 at Ericsson Stadium, New Zealand (5134 days ago) game results here
New Zealand Warriors Season 0 Stats (All games)
| | |
| --- | --- |
| Total Games Played | 26 |
| Away Games | 13 |
| Away Wins | 12 |
| Home Games | 13 |
| Home Wins | 8 |

| | |
| --- | --- |
| Total Tries: | 75 |
| Total Goals: | 70 |
| Total Field Goals: | 2 |
| Total Points For: | 638 |
| Total Points Against: | 629 |
Leagues the New Zealand Warriors are in

1995 Winfield Cup, 1996 Optus Cup, 1997 Superleague Telstra Cup, 1997 Visa World Club Challenge, 1997 Superleague Telstra Cup, 1997 Visa World Club Challenge, 1997 Superleague Telstra Cup, 1997 Visa World Club Challenge, 1998 Trials, 1998 NRL Season, 1998 Test Selections, 1999 NRL Country Carnival, 1999 NRL Season, 2000 Pre-Season, 2000 NRL Season, 2001 NRL Pre-Season, 2001 NRL Season, 2001 NRL Finals, 2002 Pre-season games, 2002 NRL Season, 2002 NRL Finals, 2003 NRL Season,

Ali Lauitiiti, Awen Guttenbeil, Brent Webb, Clinton Toopi, David Myles, Francis Meli, Iafeta Paleaaesina, Ivan Cleary, Jerry Seuseu, John Carlaw, Justin Morgan, Justin Murphy, Kevin Campion, Lance Hohaia, Logan Swann, Monty Betham, Motu Tony, PJ Marsh, Richard Villasanti, Shontayne Hape, Sione Faumuina, Stacey Jones, Wairangi Koopu,

Anthony Seuseu, Anthony Swann, Cliff Beverley, Henry Faafili, Jason Death, Jason Temu, Jonathan Smith, Jonathon Smith, Mark Tookey, Nat Wood, Richie Blackmore,

Ben Lythe, Faavae Kalolo, Henry Perenara, Jason Bell, Joe Galuvao, Joe Vagana, John Simon, Lee Oudenryn, Matthew Spence, Nigel Vagana, Odell Manuel, Paul Whatuira, Peter Lewis, Robert Mears, Scott Coxon, Scott Pethybridge, Talite Liavaa, Terry Hermannson, Tony Tuimavave,

Boycie Nelson, Brady Malam, Bryan Henare, Carl Doherty, Gene Ngamu, Matthew Ridge, Sean Hoppe, Shane Endacott, Syd Eru, Tony Tatupu,

Aaron Whittaker, Frank Watene, Kevin Iro, Marc Ellis, Paul Rauhihi, Paul Staladi, Quentin Pongia, Stephen Kearney, Tea Ropati, Tyran Smith, Zane Clark,

David Bailey, Denis Betts, Grant Young, Hitro Okesene, Iva Ropati, Mark Horo, Meti Noovao, Phil Blake,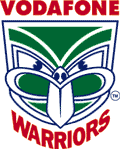 Last Results


Saturday, 10 May, 2003

Warriors 18
Parramatta 16


Friday, 2 May, 2003

Canterbury 18
Warriors 12


Sunday, 27 Apr, 2003

Penrith 28
Warriors 14


Monday, 21 Apr, 2003

Warriors 30
Cowboys 24


Sunday, 13 Apr, 2003

Warriors 32
Brisbane 12