Next Game: The Season has finished

Warriors down but not out after loss
23 Jul 2017
Coach Stephen Kearney says the Warriors still have plenty to play for despite their latest NRL loss to the North Queensland in Townsville.


The Warriors' play-offs hopes may be all but over, but coach Stephen Kearney says his team still have plenty to play for despite Saturday's 24-12 NRL loss away to North Queensland.

The Cowboys extended their winning streak to four games and kept alive their top-four hopes, but the Warriors' chances of breaking into the top eight are fading rapidly.

The Warriors were missing a key player in injured half Shaun Johnson, while James Gavet was a late withdrawal after x-rays revealed a broken arm which will sideline the in-form forward for an estimated six weeks.

He joins a casualty list which includes forwards Ryan Hoffman (foot), Albert Vete (arm), Charlie Gubb (hernia) and Nathaniel Roache (hamstring).

Kearney said there were plenty of positives to take from the game, with a dogged Warriors effort levelling the scores at 12-12 going into halftime.

However, the Aucklanders currently sit 12th on the ladder, four points astray of the eighth-placed Dragons with six games remaining.

"As long as there's a possibility, we'll keep working away," he said from Townsville on Saturday

"I thought the effort was wonderful there tonight with not a great deal of reward.

"If we keep that type of energy and that type of effort, and be a little bit better with execution in a couple of areas, I'm sure we'll get on the right side of the scoreboard."

Skipper Roger Tuivasa-Sheck said while the loss was disappointing, the Warriors could take pride in their efforts.

"We were pleased with lots of areas - we don't go out with two points, but we've still got more games to go," he said.

"The middles just kept on defending and defending, we kept on getting the ball and just running it back.

"We were still in the fight, we weren't going away, and we were just unlucky not to finish them off.

"I'm proud of the boys' efforts, and we can hopefully build on this."

click here for full story...


Cowboys down Warriors, maintain NRL surge
North Queensland have scored their fourth-straight NRL win without Johnathan Thurston, beating the Warriors 24-12 in Townsville. click here for full story...



Ponga in frame for Cowboys' NRL return
Kalyn Ponga is waiting in the wings ahead of North Queensland's clash against the Warriors with winger Antonio Winterstein still doubtful. click here for full story...



Thurston-less Cowboys still tough: Kearney
Warriors boss Stephen Kearney says that, with or without Johnathan Thurston, the Cowboys will provide a stern challenge in Saturday's NRL match. click here for full story...


Last Game: The Warriors won against the Parramatta Eels 18 - 16 at Ericsson Stadium, New Zealand (5192 days ago) game results here
New Zealand Warriors Season 0 Stats (All games)
| | |
| --- | --- |
| Total Games Played | 26 |
| Away Games | 13 |
| Away Wins | 12 |
| Home Games | 13 |
| Home Wins | 8 |

| | |
| --- | --- |
| Total Tries: | 75 |
| Total Goals: | 70 |
| Total Field Goals: | 2 |
| Total Points For: | 638 |
| Total Points Against: | 629 |
Leagues the New Zealand Warriors are in

1995 Winfield Cup, 1996 Optus Cup, 1997 Superleague Telstra Cup, 1997 Visa World Club Challenge, 1997 Superleague Telstra Cup, 1997 Visa World Club Challenge, 1997 Superleague Telstra Cup, 1997 Visa World Club Challenge, 1998 Trials, 1998 NRL Season, 1998 Test Selections, 1999 NRL Country Carnival, 1999 NRL Season, 2000 Pre-Season, 2000 NRL Season, 2001 NRL Pre-Season, 2001 NRL Season, 2001 NRL Finals, 2002 Pre-season games, 2002 NRL Season, 2002 NRL Finals, 2003 NRL Season,

Ali Lauitiiti, Awen Guttenbeil, Brent Webb, Clinton Toopi, David Myles, Francis Meli, Iafeta Paleaaesina, Ivan Cleary, Jerry Seuseu, John Carlaw, Justin Morgan, Justin Murphy, Kevin Campion, Lance Hohaia, Logan Swann, Monty Betham, Motu Tony, PJ Marsh, Richard Villasanti, Shontayne Hape, Sione Faumuina, Stacey Jones, Wairangi Koopu,

Anthony Seuseu, Anthony Swann, Cliff Beverley, Henry Faafili, Jason Death, Jason Temu, Jonathan Smith, Jonathon Smith, Mark Tookey, Nat Wood, Richie Blackmore,

Ben Lythe, Faavae Kalolo, Henry Perenara, Jason Bell, Joe Galuvao, Joe Vagana, John Simon, Lee Oudenryn, Matthew Spence, Nigel Vagana, Odell Manuel, Paul Whatuira, Peter Lewis, Robert Mears, Scott Coxon, Scott Pethybridge, Talite Liavaa, Terry Hermannson, Tony Tuimavave,

Boycie Nelson, Brady Malam, Bryan Henare, Carl Doherty, Gene Ngamu, Matthew Ridge, Sean Hoppe, Shane Endacott, Syd Eru, Tony Tatupu,

Aaron Whittaker, Frank Watene, Kevin Iro, Marc Ellis, Paul Rauhihi, Paul Staladi, Quentin Pongia, Stephen Kearney, Tea Ropati, Tyran Smith, Zane Clark,

David Bailey, Denis Betts, Grant Young, Hitro Okesene, Iva Ropati, Mark Horo, Meti Noovao, Phil Blake,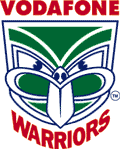 Last Results


Saturday, 10 May, 2003

Warriors 18
Parramatta 16


Friday, 2 May, 2003

Canterbury 18
Warriors 12


Sunday, 27 Apr, 2003

Penrith 28
Warriors 14


Monday, 21 Apr, 2003

Warriors 30
Cowboys 24


Sunday, 13 Apr, 2003

Warriors 32
Brisbane 12