Next Game: The Season has finished

Hoffman no certainty for Melbourne goodbye
20 Aug 2017
Ryan Hoffman says he would like to finish his NRL career in Melbourne, but concedes he must consider other options first.


Ryan Hoffman admits it would be ideal to finish his NRL career in Melbourne, but is no certainty to sign with the Storm for 2018.

The 33-year-old was told by Warriors officials at the start of the season his contract in Auckland would not be renewed.

The former NSW State of Origin and Kangaroos representative played 245 games for Melbourne between 2003 and 2014, and won three grand finals there despite spending a season in England in 2011.

And while he has been in negotiations with the club to return next year, he has revealed he also has a number of other options to consider.

"It would be great to finish my career there," Hoffman told AAP.

"I've got some really good options that I'm working through. Hopefully sooner rather than later I'm going to have this sorted.

"I'm definitely going to be playing footy next year, it's just a matter of where."

Hoffman's arrival at Melbourne would add much-needed experience for the club 's young forwards, given they lost Kevin Proctor last summer and Tohu Harris and Jordan McLean will depart at the end of this year.

Meanwhile Warriors coach Stephen Kearney has hinted the club could make a strong move in the recruitment market in the coming weeks.

The Warriors have signed Harris for next season, but still have a number of gaps to fill given Hoffman, Kieran Foran and Ben Matulino's impending departures.

Kearney again pointed to his team's inexperience as an issue in their seventh-straight loss to South Sydney on the weekend, and said the only short-term solution was to strengthen the club's arrivals lounge.

"We've got some individuals who probably aren't quite ready for what the rigours of an NRL contest is about," Kearney said.

"Recruiting some fellas that are, that helps.

"There is no quick fix. A quicker fix will be to get some individuals in who understand the business and are ready to get the job done at NRL level."

click here for full story...


Warriors look to Foran for NRL polish
Profligate in last week's NRL loss to Canberra, the Warriors are hoping the return of Kieran Foran for Friday's match against South Sydney makes a difference. click here for full story...



Croker up to second on Raiders try charts
Canberra captain Jarrod Croker scored his 106th NRL try in Sunday's 36-16 win over the Warriors, moving up to second on the club's all-time try-scoring list. click here for full story...



Raiders stay in NRL title hunt with win
Canberra have defeated the Warriors 36-16 in Auckland on Sunday, keeping their NRL finals hopes alive for now. click here for full story...


Last Game: The Warriors won against the Parramatta Eels 18 - 16 at Ericsson Stadium, New Zealand (5219 days ago) game results here
New Zealand Warriors Season 0 Stats (All games)
| | |
| --- | --- |
| Total Games Played | 26 |
| Away Games | 13 |
| Away Wins | 12 |
| Home Games | 13 |
| Home Wins | 8 |

| | |
| --- | --- |
| Total Tries: | 75 |
| Total Goals: | 70 |
| Total Field Goals: | 2 |
| Total Points For: | 638 |
| Total Points Against: | 629 |
Leagues the New Zealand Warriors are in

1995 Winfield Cup, 1996 Optus Cup, 1997 Superleague Telstra Cup, 1997 Visa World Club Challenge, 1997 Superleague Telstra Cup, 1997 Visa World Club Challenge, 1997 Superleague Telstra Cup, 1997 Visa World Club Challenge, 1998 Trials, 1998 NRL Season, 1998 Test Selections, 1999 NRL Country Carnival, 1999 NRL Season, 2000 Pre-Season, 2000 NRL Season, 2001 NRL Pre-Season, 2001 NRL Season, 2001 NRL Finals, 2002 Pre-season games, 2002 NRL Season, 2002 NRL Finals, 2003 NRL Season,

Ali Lauitiiti, Awen Guttenbeil, Brent Webb, Clinton Toopi, David Myles, Francis Meli, Iafeta Paleaaesina, Ivan Cleary, Jerry Seuseu, John Carlaw, Justin Morgan, Justin Murphy, Kevin Campion, Lance Hohaia, Logan Swann, Monty Betham, Motu Tony, PJ Marsh, Richard Villasanti, Shontayne Hape, Sione Faumuina, Stacey Jones, Wairangi Koopu,

Anthony Seuseu, Anthony Swann, Cliff Beverley, Henry Faafili, Jason Death, Jason Temu, Jonathan Smith, Jonathon Smith, Mark Tookey, Nat Wood, Richie Blackmore,

Ben Lythe, Faavae Kalolo, Henry Perenara, Jason Bell, Joe Galuvao, Joe Vagana, John Simon, Lee Oudenryn, Matthew Spence, Nigel Vagana, Odell Manuel, Paul Whatuira, Peter Lewis, Robert Mears, Scott Coxon, Scott Pethybridge, Talite Liavaa, Terry Hermannson, Tony Tuimavave,

Boycie Nelson, Brady Malam, Bryan Henare, Carl Doherty, Gene Ngamu, Matthew Ridge, Sean Hoppe, Shane Endacott, Syd Eru, Tony Tatupu,

Aaron Whittaker, Frank Watene, Kevin Iro, Marc Ellis, Paul Rauhihi, Paul Staladi, Quentin Pongia, Stephen Kearney, Tea Ropati, Tyran Smith, Zane Clark,

David Bailey, Denis Betts, Grant Young, Hitro Okesene, Iva Ropati, Mark Horo, Meti Noovao, Phil Blake,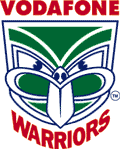 Last Results


Saturday, 10 May, 2003

Warriors 18
Parramatta 16


Friday, 2 May, 2003

Canterbury 18
Warriors 12


Sunday, 27 Apr, 2003

Penrith 28
Warriors 14


Monday, 21 Apr, 2003

Warriors 30
Cowboys 24


Sunday, 13 Apr, 2003

Warriors 32
Brisbane 12